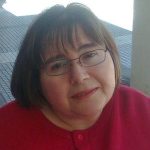 Name Surname: Fani Athanasiadou

Country: Greece

City: Thessaloniki

Nationality: Greek

Sector: Arts & Sports

Position: Poet, freelance writer
I was born in Athens, but I live in Thessaloniki. I am a person with a physical disability . Against the prejudice I faced and the lack of accessibility, I managed to finish high school in Athens, to take the First Certificate in English, to succeed in the examinations at the Athens University in School of Philosophy and I decided to move to Thessaloniki hoping that I will have a more accessible life . As a poet, I have published five (5) poetry collections. My poems have been awarded and distinguished in Panhellenic Competition Poetry and the Association of Publishers of Northern Greece for my overall presence in the field of Poetry. They have been presented in the special literature radio programs of Athens (ΕΡΑ2) and Thessaloniki (Observer, Radio Expression) and published in literary journals of Athens and Thessaloniki. I participate in poetic Anthologies of the Malliaris publications and of the University of Macedonia. I am co-founder of the literary group Ideocamy which is situated in Thessaloniki and we organize poetry evenings
My Love for Poetry / Literature, the talent according to the opinion of the special-critical writers, readers, encouraging /my father's support for my writing.
Opportunities: Literary contests / awards, publications of poetry collections, proposals / invitations to participate in literary events, articles in literary electronic journals, presentations in radio literary programs, publications in literary journals and Poetic Anthologies.
Challenges: The continuous success in the field of Poetry, the great interest in the Theater, the creation of a pioneering experimental theatrical group with people with and without disabilities participating as a founding member. Activist actions / participations, continuous articles on the rights of citizens with disabilities and the problems they face in Greek society
In 2000, I participated in the Poetic Lobby, at the meeting of women's creators from 30 countries of the Mediterranean and the Black Sea . In 2006 the Women's Network of Thessaloniki organized a Poetry Night dedicated to My Poetry. I participated on two consecutive years in 2008 and 2009 in the annual poetry diary published by the 'Publishing Experience' publications. I am included in a publication for the literary creation of Northern Greece. During the Spiritual May of Thessaloniki, I was a speaker with the theme 'Poetry and Education'. My 2nd Poetry Collection is located in the Greek section of the library of the University of Mons Hainaut in Belgium. From the National Theater of Northern Greece my theatrical poetry was presented at the Lazariston Monastery. On the World Poetry Day in 2013, I was honored by the Lyceum of Gianitson.
Theater: At the same time, I have been involved with the theater. I was a founding member of a mixed theatrical group with people with and without disabilities. We took part in the World Theater Festival in Edinburgh at the open theater festival of the Municipality of Thessaloniki. I have dealt with theatrical adaptations that were presented at Vafopouleio Spiritual Center.
Radio: For one year I was a producer and presented a literary show at a radio station in Thessaloniki.
I got flexibility, constant updating, adaptability, transmissibility, solidarity, social empathy, visual global, perception, understanding, / creation of ideas / plans. I am energetic, innovative, communicating positive, philosophical, flexible, anxious, receptive to new ideas
Since my childhood I had models such as Martin Luther King, Helen Keller, Raul Wonder and Sister Teresa. But my closest model that inspired me and I still feel inspired by my life is my beloved and unforgettable father.
My advice: Focus on their goal not to be negatively affected by other people and to insist despite any adversity until they succeed. And then follow the next one they will want to reach.