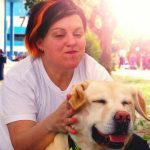 Name Surname: Ioanna Maria Gertsou

Country: Greece

City: Athens

Nationality: Greek

Background: PhD

Sector: Services, Education, Third Sector

Position: Psychologist at Athens Children's Hospital "Agia Sophia",

President of Lara Guide-Dog School http://www.laraguidedogs.gr
I'm a psychologist with a Bachelor's Degree from the Psychology Department of Panteion University (Greece), a Master's Degree from the Psychology Department of Université Libre de Bruxelles (Belgium) and a PhD from the School of Medicine of University of Crete (Greece).
I'm specialized in experimental psychology and I have entered the labor market at an early age. I became competitive in research and desirable for collaboration and I have been working in laboratories, institutions, universities and hospitals.
Research in psychology also allows remote work and collaboration with leading international organizations.
Today I have a permanent working relationship in the Greek National Health System and I hold a position as a psychologist at "Agia Sophia" Children's Hospital in Athens.
I'm considered to be an activist for Human Diversity and a leader of the guide – dog movement in Greece. I direct "Lara" Guide – Dog School which trains and provides guide – dogs to people with a visual impairment.


I got my first guide – dog "Lara" in 2003. I am a Founding Member and Chairman of the Board of Directors of 'Lara" Guide – Dog School since 2008 and a Member of the Board of Directors in the European Guide – Dog Federation since 2013.
I have entered the research field since 2006, when I was appointed as a researcher in the Foundation for Research and Technology Hellas – FORTH and since 2015 I work for the Greek National Health System in "Agia Sophia" Children's Hospital in Athens
I'm an experienced NGO co-founder with a demonstrated history of working in the guide – dog industry. Skilled in designing and conducting advanced psychological research, a role model and a motivational speaker with a significant experience in the media and the social media
Do things and love humans that enlightens you. Life is small.
Do not succumb to the anachronistic stereotypes of the full time mother, housewife, spouse, perfect, always laughing woman etc. If you surrender, they will affect your personal and business life. The fact that you are a woman does not put you at a disadvantage.
Do not take anything personally.
Be self-aware. Know your pros and cons.
It will take you years to develop your organization. There is no magic pill that will speed up the process.
Always set realistic, applicable goals for innovative ideas.
Learn from your mistakes and the mistakes of others.
Be Yourself.
Know and claim your rights.
Believe in the goal and not in what others tell you.
Put a dividing line between work and personal life.
Understand how disability is a normal condition that can potentially occur to everyone. This condition is characterized by tremendous plasticity and is determined, in particular, by our personal choices and motivations for education, well-being and development.
Do not allow others to judge you because of your mental and / or physical condition. Beauty is in the sight of the one who sees it. Anyone who cannot see it is not fit to work or be with you.
Train yourself to adjust and rebound, but do not be afraid to admit your weak side