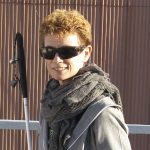 Name Surname: Kelly Arrontes

Country: Spain

City: Barcelona

Nationality: Spanish

Background: University Degree

Sector: Culture (Art) and Sport

Position: Founding Member
I was born with myopia magna and after some unfortunate accidents, I joined the ONCE (Spanish National Organization of Blind People) in 2014. Despite this, I graduated with honors at the University of Fine Arts Sant Jordi, Barcelona, being the first of my class. I have exhibited in several galleries and national museums in Valladolid, Salamanca, Barcelona, Madrid... and I have international presence in New York, London, Bogotá or Copenhagen thanks to individual and collective exhibitions and Art Fairs.
When I became aware that the products associated with oil damaged my eyes, I abandoned this painting technique. Since then I work to investigate the incredible versatility of acrylic paint, as well as its multiple mixtures with varnishes and other elements. Thanks to these painting techniques, I have created my own style for abstracts and the background of portraits. And I'm still investigating.
As artistic painter, I guess I have shown that painting is a powerful weapon for blind, low vision and disabled people in general. It is a way to make ourselves present in the world, to be 'seen' and taken into account. To intervene in society by showing my skills, my particular way of 'seeing' and telling how things are or how they seem to us. It is not a minor task. It is a way to grow and make us more human.
I do not try to be better than others; I try to be 'DIFFERENT'. And that difference is intrinsic in my person, since I am, as far as I know, the only professional portrait painter legally blind. This is what makes the difference because it makes my painting unique, exclusive and different. And with my work I say to the world: 'if I can ... you can.
Since childhood I had a dream; the dream of being an artist and earn a living. After many setbacks I finished Fine Arts and achieved my dream… nothing ever happens if there is not a dream first. Then, there were more setbacks and the dream broke for more than ten years; but life is like that, you make plans and someone or something breaks them. However, I did not give up! I was not easy but in 2014 I went back to my professional activity and, despite being legally blind, in 2015 I created my company 'ARRONTES – Arts'.
The biggest motivation that moves me is to claim a fact: the fact that THE DISABILITY DOES NOT DISABLE, at least not in everything. I feel that now things are going in the right way. There is still a lot to do, but I believe I can carry it forward if I maintain the illusion that I feel now. Always with the certainty that when a professional, artist or not, has some type of disability, her/his disability does not revalue or diminish the final result of her/his work. Regardless of how many strategies you adopted to overcome it.
The road has not been easy. I have faced two important threats; On the one hand, my condition as a woman in a world where historically only men have to stand out and, on the other hand, my low vision that conditions my way of painting and makes it much more difficult.
The art environment is very complex. You need to know how to manage your exposure channels, supply, communication, representation and sales. In addition, there is a very unequal demand that reflects the change in tastes and ways of life of the new generations.
However, what at first was a threat, the fact of having such a low vision, I assumed it and turned it into an opportunity. It makes me different, my own branch in a difficult and highly competitive market. I know I can never control the direction of the wind, so I try to place the sails in my favor. I can do that.
Over the years and seeing my life with a certain perspective, I can say that I am a person that adapts easily to changes. I get up when I fall. I am able to use my own experience to give advice to other people and request advice when I need it. I listen and pay attention to the problems of others and, when necessary, I like to mediate so that everyone ends up satisfied.
If I talk about my professional life, I like to work in a team and motivate the people with whom I collaborate. I think it's important to have goals and I always consider reaching the goals that I set. For me it is important to develop myself through my work.
Among the qualities that I think I have, I like to talk about myself as a spontaneous and impatient person. Of course, it defines my creativity, my innovative curiosity and the fact of being able to risk myself in life. I am optimistic by nature and also, persistent and ambitious.
'You'll have to work harder because you've always done it, but life has taught you to fight better than people who consider themselves "normal"; for this reason, surrender should not be part of your dictionary'
It must be clear that disability does not disable us. Not for everything. As Idris Elba said, 'life does not consist in stopping before the storm but in learning to live in the rain'. Our biggest limitations come from other people and from ourselves when we pay attention to others. We put limitations when we give credit to those who hinder our path and discriminate us for being different. For example, if your talent is the Art, enjoy transmitting your emotions to others through Art. Project your art regardless of what other people think. This would be my best advice. Oh! AND ENJOY!
If entrepreneurship costs a lot of effort, when you talk about inclusive entrepreneurship the barriers do not come only from the disability, but from the system: society, laws, finance, etc. For this reason, there are some aspects that should be developed as per example, changing laws regarding workers with disabilities. The tiny pensions of people with disabilities prevent them from taking the initiative to create companies. Pensions, far from benefiting people with disabilities, are often a barrier to development. Because the law prevents them from having more income at the risk of losing their pension; the fear of losing the pension condemns people with disability to mediocrity, not to advance in their social and professional inclusion. And in general, pension is not enough to live and take care of your health. It should be allowed to have extra income without limits, subject to comply with taxation. This would increase the contribution to social funds of a whole new group. A great collective, on the other hand.
The legal gaps and the indifference of institutions and politicians to overcome them remain pending to overcome in inclusive entrepreneurship. In addition, in my sector, the emerging challenges of art buyers, competition and interculturality, the investment preferences of users and art collectors...
If I have to think about the people who have motivated or inspired me to start my business, I have to talk about people like Lita Cabellut. This woman started from below zero and according to Art-price, has managed to become the first most sought-after artist woman in 2016. Like her, many other people no less remarkable, like my mother, a great artist who lived in the shadows due to the historical social moment that she had to live. I owe her my beginnings and, since her death, I wanted to honor her with my name because without her I would not have chosen this path. Also Myrtha Casanova, President of Various Artists, is an example for me. In particular, Myrtha and her Association are my main source of projection. Something very important in this sector.
And I repeat, because I consider it important, the fact that a professional, artist or not, has some type of disability does not revalue or diminish the final result of his/her work. Regardless of how many strategies you have had to adopt to overcome it.