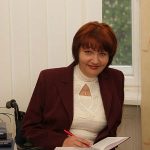 Name Surname: Lolita Andersone

Country: Latvia

City: Riga

Nationality: Latvian
Background: Lolita Andersone is first and yet only judge in Latvia who has muscular dystrophy, therefore she moves around in a wheelchair. Before that, she was a chairman of organization for disabled people and later worked as a lawyer in State Human Rights Bureau for 7 years. Lolita is an amazing example of how, despite the challenges brought by disability, with the help of entrepreneurship and perseverance one can achieve a lot!

Sector: Legislation (Law and Justice)

Position: Judge in Administrative District Court
https://www.tiesas.lv/tiesas/saraksts/administrativa-rajona-tiesa-rigas-tiesu-nams-3388
Since I was a child, I had this thought about profession in law. When I turned 13, I knew I want to be a lawyer. I started my studies in University of Latvia and when I finished, it was still in Soviet Union, there was a limited chance of getting a job as a lawyer. Back then I started working in one of the organization for disabled people, and as a chairman of this organization, I organized its work. My work there also included various legal questions but you couldn't say that it was entirely connected with my profession as a lawyer.
I've also worked as a domestic producer, I knitted and crocheted beanies for children and worked by accepting private orders. This was my work also when I was pregnant with my son. Not long after my son was born, I understood that now it's the time to do something in my field, so I applied to State Employment Agency to obtain unemployment status. At first, the attitude was somewhat funny, because of my disability, they said something like this – are you crazy, what are you even doing here? With the time, the situation got better and I was accepted. Of course, there were not a lot of possibilities, since there wasn't a lot of jobs which you can do from home. Not long after, there was an article in newspaper 'Diena' about our family, in this article it was mentioned that I'm a lawyer and I'm looking for a job.
I had a call from State Human Rights Bureau and I was offered a job there, it was a start of my career. I worked there for seven years, I started as a lawyer and became head of the department. When Administrative District court was founded, I got a call and they offered me to take part in a competition. Before then, I never thought that I could become a judge, moreover, I liked the job in Human Rights Bureau as it was very interesting. But I was said that if I'd take part in this competition, 2-month long training would follow lectured by one of the best lawyers in state. Only because I wanted so badly to hear those lectures, I applied to this competition. Competition was hard, a lot of people had applied and step by step I went through the competition. There were 30 people at the beginning and only 18 stayed after 2 exams. And then I thought – if I came this far, I must go further and just like that I changed my workplace!
Since childhood I was interested in investigator's profession but I grew older and I had to realize my disability and understand, and think about profession and job which would be more suitable for me – that kind of job which you can do by sitting at a desk and which doesn't demand a lot of running around. I think that lawyer's profession varies greatly, when you obtain an education in law, you can wort in any field – as a lawyer, as a judge or notary. Even in my wildest dreams, I didn't think that I'd become a judge, but I love this work. I'm very interested in it.
I faced my first obstacle at the time when I wanted to apply for studies in university. At the time, it was during Soviet Union, in order to apply for studies, you needed a high school diploma and the opinion of Health Commission that you are allowed to study. The process of me going to university was stopped at the beginning when I turned to my doctor, so he can further recommend me to Health Commission. I was told that I cannot go to university. After that, I needed to take a gap year, because I couldn't longer manage to get all the paperwork done. Then, a number of acquaintances interfered, to be honest, I didn't really know who supported me back then, and I got a chance to go to Health Commission. There, I was told that state would spend a lot of money for my studies but I won't be able to work because there aren't jobs which you can do from home. Basically, the conclusion of Health Commission was that I cannot study, however, I took that paper, went to the university, straight to the assistant professor and he asked me – are you able to learn? I am, I said, well, then go on and study, he said.
The second obstacle I faced when I entered State Employment Agency and told that I want to look for a job. At the time, a lot of laws changed, I hadn't had any practice, some time had passed since my studies, and I didn't feel safe about myself in terms of professional career. So I thought that it'd be useful for me to gain some new knowledge in courses, provided by SEA. When I entered the agency in my wheelchair, they almost immediately doubted that I cannot gain my unemployment status, because I'm in state's maintenance. I answered that I am not, yes, I receive a pension because of my disability but I'm not living in care home. Again, they showed me some documents and said – but you are unable to work, to which I answered – no, there is said that I need to be taken care of, however, again I was declined the option to obtain unemployment status. I didn't make any fuss, I went to the Health and Work Capacity Doctors State Commission and said that I need to change the record, so they did that and now it was said that I am able to work by individual work schedule. I went to the SEA again and now they had to register me, after a while, the attitude changed for the better.
One time, when I was still working at State Human Rights Bureau, I decided to apply for a notary assistant job. When you have an experience as notary assistant, later you can work as a notary. So, I wrote my resume, also stating that I have a disability. I was invited for a job interview but when they saw me coming in in a wheelchair, they were shocked and surprised and said – 'oh, oh, we have to run around all the time, you won't be able to handle this!' To be honest, it made me laugh and I knew pretty well that there is not any 'running around'.
On the contrary, when I started to work in Administrative District court, the attitude was very welcoming and there were no questions and doubts about my disability. My husband has helped a lot in overcoming these obstacles, if it wasn't for him, I wouldn't be able to work and to get to work. Also, when I was still studying in university, my father helped a lot. Now, I can be independent, I don't need no help, everything is adapted to my needs. There is no situation where I couldn't get somewhere, also, people are very helpful. Maybe I'm lucky. However, I think it's because of my nature. Of course, your first impression when seeing a person in a wheelchair, is that he needs a help, however, when people are in contact with me, they forget that I'm in wheelchair. I am strong thanks to my personality and characteristics, if someone says – you can't do it, I will do everything possible to do that!
Because of my profession, I can say that I'm competent in law and legislation. I have various skills which have been developed through my professional career – different training, courses and seminars. I enjoy working both individually and in team. I'm also an active participant in organization for people with disabilities – Motus Vita. Together, with them I participate in theatrical studio and other events organized within.
Don't be afraid to take up the initiative. Don't be afraid to start something, and if you will, everything else will follow! I remember the first time when I went outside in a wheelchair, to be honest, that was my first biggest obstacle I had to face. When I overcame that, there were no more obstacles. It's only the first moment when you think that everyone is going to stare at you and point fingers, but in reality, no one even notice that!