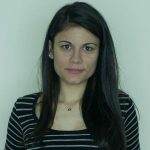 Name Surname: Irini - Liza Karamani

Country: Greece

City: Volos

Nationality: Greek-German

Background: University Degree

Sector: Education, Third Sector

Position: Researcher - Trainer in sign language
I was born in Germany, I am a deaf person . I am a graduate of the Pedagogical Department of Higher Education of the University of Thessaly, and a teacher of Greek sign language.Ιn 2012 I was a representative of the Greek committee in the
I 've be born as deaf person . The huge problem that prevented me when they asked me if I could hear them and how I could adapt with others was that they wondered if they could live with me . Personally, I have no particular problems, my family supports me. There are social problems that keep me (constantly) on fewer opportunities when they treat me as deaf.People always think that I am 'lazy' For example : How can I keep occupied with something since I can not hear, Am I allowed to speak ? But with persistence , faith, patience and will , everything is possible. Thus , I studied and I have been spreading my knowledge to my fellow human beings so that they can also be activated.
I've been practiced in the general school and taught them the Greek Sign Language. I worked as member of the Steering Committee of the Deaf Association of Northern Greece
.- Voluntarily, I was present in the Joint Action of the Common wealth. Petite Cantine, 'Think with your senses, Feel with your Mind
'From 2011-2013 I was a Member of the Youth Deaf Committee of the Deaf of Northern Greece
In my attempt to create a business, I tried to be interested for personal development and development of my associates, to avoid conflicts and not to hesitate to follow the advice of others, to be friendly, energetic, independent, optimistic, innovative and receptive to new ideas
Tips I can give to women: Do not have stereotypes and prejudices.
You can not criticize a person with less abilities without knowing if he can deal with it.
It is better to first try and if it is successful it will be shown afterwo