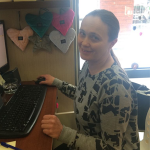 Name Surname : Małgorzata Tomaka
Country : Poland
City : Rzeszów
Nationally : Polish
Background : Secondary
Sector : Higher
Position : Sales manager in medical store Pro-Familia, Rzeszów Website: http://www.sklep.pro-familia.pl/ Company name + url :
I graduated from an IT study at a private university in Rzeszów - University of Information Technology and Management, and then at the same university I got a Master's degree in economics in 1998. After graduating, I started working in a bank because it was always my dream. I worked in two banks: BPH and Alior Bank for over 17 years as a client adviser. Over the years, the work in the bank disappointed me a lot and especially the unethical approach to employees and clients. For a year I took care of my home and family and then I started working in the Pro-Familia medical store. The Pro-Familia medical store provides me with professional and personal development, because in addition to two stationary stores also has an online store and my IT skills are very useful in my daily work. The experience that I gained from working in banks, i.e. contact with clients, I also use at my current job. With the difference that now, instead of financial products, I sell products for children and babies. Pro-Familia offers unique products from the assortment of the best brands. Our offer includes everything for a child and mother - accessories, toys, textiles, articles related to health and hygiene of babies and their feeding, furniture, as well as special products for mothers, such as underwear and cosmetics. In addition, we enable our clients to assemble a layette for a newborn in our online store. Our store cooperates closely with specialists working in Pro-Familia, the best hospital in Podkarpacie, so our offer is adapted to the technical innovations recommended by prominent doctors. Thanks to this knowledge, we can advise parents on the selection of products that will help them best take care of the health and comfort of their baby in the first days of life.
My motivation to change in my vocational life was professional burnout and disappointment in financial work. After 17 years, I left the bank and took the challenge to change jobs. I really enjoy working with people and I still do it only in a different industry. Opportunities and threats which had a strong influence on your career Opportunities: changing jobs as an opportunity for a better life and a better understanding of yourself and your talents. Threats: burnout at work in finance, although this work was the fulfillment of my dreams.
In my current work, I discovered my talent for sewing plush toys for children. Right now I do not have the courage to sell them, I give them to parents and their children who visit their newborn siblings.
I think it's worth fighting with yourself, sometimes leaving the comfort zone. For me, a person who likes stabilization, changing jobs was a challenge. Money is not a priority for me, the family and myself are the most important things I have. As a disabled person, I have to take care of my well-being, first of all, because stress leads to serious illnesses. What helped you the best in your path to where you are? Deciding factors of success. Courage and creativity. Learning assertiveness in relation to the people I work with. Did something give you inspiration for your enterprise? A new job, great relationship with the boss and her trust, development opportunities, gave me inspiration for a new action, discovering my talents.
My skills are as follows: • I learn quickly and implement new information while working; • I easily adopt for changes; • I know and use the required techniques to do my job well; • I listen and pay attention to the problems of other people; • My work develops me as a person; • I like working in a team; • I have no problems planning and organizing my own activities; • I like to have goals and achieve them; • Easily establishes contacts; • I am an empathic person. I like to develop professionally and in addition to my studies, I also completed training in assertiveness, sales techniques and impact on people. I also completed a sign language course because I had a deaf and mute clients while working in a bank. This skill was very useful for me at the bank as well as now, because we also have such clients.
Hints and tips: You are the most important person in your life! Be creative, everyone has a talent. What do you think about entrepreneurship in general? I believe that entrepreneurship and successful working life is very important for women with disabilities. Everyone has their talents and needs to discover them. Assets to be developed: Continuous professional development and developing my talent of sewing plush mascots. Weaknesses to overcome: No kind of disability can affect the lack of work. You have to dare and be open to changes in your life. Do you have experiences in mentoring, coaching and/or job shadowing? If yes, please describe it. Yes, I have many years of experience in mentoring at work. For 6 years I was a mentor in the bank for new employees for the first three months of their new job. And I think I was doing very well as a mentor, because my mentees were always well prepared and coped with their work. In my current job, I am also a mentor for new employees, and our team are only women.