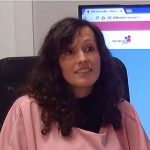 Name Surname:Rosa Rodríguez

Country: Spain

City: Vigo

Nationality: Spanish

Sector: Education

Background: Interior Designer
I've been trying to become autonomous for years because I have not had too many opportunities to work. At age 14 I was diagnosed with my first chronic degenerative disease (the first of three) and since then everything has been a bit more difficult for me. I studied Interior Design when it was still a higher degree, but I have barely practiced my profession. I did computer and design courses to continue training. As soon as I got the degree, I went to the United Kingdom to work a few months to learn English and enrich myself as a person.
My experience living in United Kingdom was the most influential in what my future would be, because now I aspire to open an English academy and finally be able to find job stability.My principal motivation is to work on something that my health allows me to carry out and grow as a person. Morover, the absence of businesses of this type in my area and the high demand for learning English at this time are two reasons that motivate me to start my own business.
My business idea is to create a place to give English classes in groups of about 10 students, from Primary to Baccalaureate, even with a group of adults and maybe French. I hope to have someone to help me in the short term. I started working on this project at the beginning of this year, but for practical reasons I have to wait to open the academy in September-October.
That they look for something that their disability allows them to carry out.

That they trust in their capacities, although if it costs them. We have to think that we have not had it easy but, in one way or another, we move forward.

That they think that the only way to get something is by trying, maybe we will get it or maybe we will fail, but if we do not try it we will fail for sure.

That accept to be helped