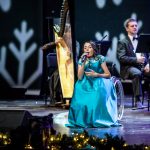 Name Surname: Diāna Ponaskova

Country: Latvia

City: Riga

Nationality: Latvian

Sector: Non-governmental or Third; Culture sector

Position: Public Relations manager in Latvian Operetta Fund; artistic participant and volunteer in foundation 'Come along'!
Despite her mobility impairment which was caused by genetic illness, and obstacles because of her disability,Diāna is an exceptionally talented, joyful and inspirational women who, with her professional and creative activities and attitude, is able to inspire and encourage others!
I was born and raised in Riga. I studied in Riga's 45th secondary school. After secondary school I studied in Riga Stradins University and got a Bachelor's degree in Communication Science, graduating a Programme called ''Multimedia Communications''. Now I am continuing my studies in Riga Stradins University, only this time my field of study is Public Relations and Strategic Management.
Since the age of six, as an artist, I take part in various projects carried out by foundation 'Come Along!'. I participate by performing on stage and taking part in different creative projects that require many forms of artistic expression. The foundation is now 20 years old, and 16 of them I have been a part of it! Art is the one field, where I experience the greatest spectrum of creative events and in which I feel that my personality is constantly evolving, helping me to improve my skills and see the world more broadly.
Thanks to the support of the foundation 'Come Along!' and 'Jubilee Sailing Trust' organization, I have also had an opportunity to sail in the Atlantic Ocean with an international team on a sailboat 'Tenacios' that is adjusted to the needs of people with movement disorders. As for everybody else in the team, it was also my duty to steer the sailboat, tighten the sails, monitor the navigation system, swipe the deck, prepare food and be on duty at nights. I was the only representative of Latvia in a wheelchair.
Now, with the foundation's 'Come Along!' youth choir, we are planning to go on a small concert tour to London, United Kingdom.
My artistic achievements and skills were implemented within the foundation 'Come along!', by having an opportunity to collaborate on stage with well-known Latvian musicians, such as Dons, Renārs Kaupers, Gunārs Kalniņš, Emīls Balceris, etc. I have also had an opportunity to share the biggest stages in different cities of Latvia with well-known orchestras and instrumentalists. Music is an integral part of my life. But continuing about my skills, I am also fascinated with photography. I have participated in exhibitions, different contests and my work has been published in calendars as well. I can also highlight my professional communication skills, public relations skills and multimedia communication knowledge and skills that I have acquired at the university and will continue to develop by gaining experience working actively in projects for foundation 'Come along!' and also for Latvian Operetta Theatre. Two short films have also been created about me, they are available on YouTube. One of them was filmed in 2011, director - Didzis Eglītis. The other one was created in collaboration with the students of Latvian University, and it is called 'Do not fold the wings', it was released in 2017. Link - https://www.youtube.com/watch?v=HKuLpYACF34&amp=&feature=youtu.be
For women with disabilities – I invite you to be brave, clearly stating your goals. Courage, commitment, responsibility and openness to new experiences, are one of the most important factors that will help you to grow and lead you to success. Every individual has a natural set of skills and talents, but all of it has to be developed in order to be adaptive and flexible for the ever-changing labour market. But of course, the most important thing is to love what you are doing and to discover your calling in life, because it will be easier to follow it even when going through some rough paths.
Also, it is very important not to compare yourself, your individual abilities and mission in life with others. We are just as valuable and important as we have been created. Each of us have our added value. What seems to be obvious, may not always be true and sometimes you can fulfil your intentions and make a valuable contribution to the hearts of others only with a very strong conviction about your goal, with love and the sense of freedom. Our purpose is to work with love. Even if it is a small handicraft shop, it may turn out to be an opportunity for someone to find exactly what his heart has been looking for.