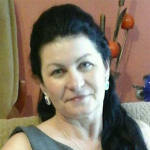 Name Surname: Helena Buszta

Country: Poland

City: Łańcut

Nationally: Polish

Background: secondary

Sector: Services

Position: sales person
I graduated from the Technical School of Agriculture in 1983 and dealt with agricultural activities for many years.
After I became a disabled person, I finished a gastronomy course because working on a farm is no longer possible for me. For several years I worked in the Department of Vocational Activity, learning cooking, customer service, hotel service. I founded the company I am currently working with with other disabled women in 2016.
For a year in 1990, I was carrying out transport activities, but I resigned because this work was too heavy for me.
Thanks to my current job, I'm financially independent and contribute to the household budget. The current job suits me very well because I have a lot of contact with people, and we understand each other well with other employees.
I can learn and implement new information while working, I know and use the required techniques to do my job well, I listen and pay attention to the problems of other people, I like to build partnerships. Personal development through work is important to me. In the case of disputes I am looking for peace, I can negotiate, coordinate and motivate my employees. I like to work in a team, have goals and achieve them. I do not hesitate to ask for advice. I am a hardworking person,
Women face problems on all sides, but do not just give up fighting for yours. And work helps us overcome the diseases we face.