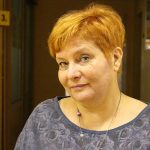 Name Surname:Irina Parhomenko

Country: Latvia

City: Riga

Nationality: Russian

Sector: Services and Non-governmental or Third sector

Position: Project coordinator in organization 'Apeirons', the founder of the employement's support service

Background: Before the accident, which is the reason why Irina is in a wheelchair, she worked as an economist and accountant. Later on, she obtained education in Social Integration State Agency as industry's trade worker. In organization ''Apeirons'' she has created employment support service. In 6 years this service has helped to employ 130 people with disabilities and special needs.

Sector: Services and Non-governmental or Third sector

Position: Project coordinator in organization 'Apeirons'; the founder of the employement's support service. http://www.apeirons.lv/new/
During Soviet Union I obtained professional education and worked as an economist and accountant. After my incident, I was 40 years old then, two to three years I tried to overcome my new physical existence and state. After, I enrolled in State's Social Integration Agency/College and obtained my degree as industry's trade worker. At the time, it was the only specialty available, so I had to go with that! Also, I had to study at distance, since my daughter at the time wasn't of full legal age and I had to help my mother as well. Within the organization 'Apeirons' I have created a discussion club who has been happening for 7 years already. Nevertheless, my biggest achievement is the creation of employment support service, in 6 years of its action, we have helped to employ more than 130 people. I have finished English, Latvian and French language courses, courses in accountancy and record management, as well as project management courses. I have experience in translating texts from Russian to Latvian and vice versa.
Almost 10 years after the accident which put me in the wheelchair, I was unemployed, but in 2005 'Apeirons' asked me to participate in project which prepared information for Russian speaking people with disabilities – about different topics connected with social inclusion, employment, education and citizenship. I translated organization's 'Apeirons' homepage from Latvian to Russian language, translation experience was something new for me. I also developed a new section which informed about people with disabilities and their hobbies. After that, 'Apeirons' director saw me as communicable women which is able to achieve things and asked me to create and organize discussion clubs.My daily life also describes public work – I give information to media, I attend different seminars and trainings, I have organized and managed motivational seminar on employment.For 6 years now, we provide people with disabilities with employment support service. At the beginning, we looked for cooperation partners, taking into consideration all things necessary for people with special needs. We wrote 100 or 150 e-mails, inviting companies to cooperate and meet with us in person, but only 25 companies responded. Most of them were the big companies, such as banks, who have the obligation to be socially responsible. In that way, we employed only few people. Our main principle is to have an individual approach to each person. We often have people asking for help, which are older than 50 years – whether they have lost their qualification because of the time or their disability, or they face long-term unemployment. We try to work together with these people – we collaborate with psychologist, consultants, and social workers – in the end it is kind of like comprehensive consultation with individual approach. Also, we cooperate with Riga's Social service and our main aim is to help to find a job for person, also our objective is to turn these people from beneficiary to tax payer. Our employment service doesn't only help to find a job – in cooperation with State Employment Agency, we provide people with career consultations – people assure us that they are very satisfied, because these consultations can give them information which I and my colleague perhaps cannot.In these 6 years, we have helped people to become not only financially stable, but also socially active. Often, we ask them – why do you want to work? They answer that not only because of financial stability, but also to be useful, to be among people and society. Our experience with this service has been mentioned in international conference among Lithuania's, Denmark's and Finland's experience. I now see that our main principle – individual approach to each person – has been integrated into State Employment Agency's daily practice.I had some obstacles along my path to success, for example, I didn't get any support from my family, just contrary – all the time I was forced to prove that people with disabilities are also people, that they can achieve big things. Here, in 'Apeirons' I got the support I needed, it helped me to improve myself and to come out of my comfort zone. I challenged myself and succeeded in things which I thought I couldn't accomplish. Perhaps, I had the feeling that maybe I could do it, but nor did I have time or specific reason to use this opportunity and improve myself. When I came here, I saw people with much more severe disabilities than I have, but how they lived and the things they accomplished! I saw that they can be happy, to have a family, etc. With the time, I felt embarrassed – I just couldn't be weak and squeamish anymore. I just had to overcome these obstacles which come with disability. It is good to forget that you are a person with disability, because, first you are a person, disability is not your stamp. I'm just like any other women. The only difference is that I move around in a wheelchair. One of my friends says – not disabled but injured. Because we are strong and their spirit is strong, and people should take example from them. There are paradoxical situations when disability change life by 180 degrees for the better. It can affect life positively – you just cannot and do not want to be less successful, when you have examples which prove that everything is possible.Speaking about other obstacles – my main obstacle and enemy are stairs, environmental barriers, and all of those moments when I cannot get from point A to point B. Although, it seems that situation is getting better and Latvia is the most environmentally available country among Baltic states.
I have various skills which I have gained through my professional career, such as different language skills – French, Latvian, and English. Through employment support service I teach Latvian for Russian speaking people with disabilities. Also, we teach how to use computer and simple programmes for those people who do not have many experience with technologies. I consider myself communicable, therefore I have good communication skills and it's easy for me to find common ground with different people.I have good organizational skills – I have prepared and organized motivational seminar about employment. I feel great responsibility towards my work, and always do my duties with high accuracy. I enjoy and am able to work in a team, but honestly, I prefer to work independently. I feel empathy towards people I work with – I am a good listener. I'm always open to new experiences, ideas. Thanks to the specifics of my job, I'm also able to consult people on different topics connected with employment. I have fruitful experience with making cooperation with various institutions, companies and people. I have a good sense of humour which helps me both in my professional and personal life.
Everything is possible, if you want it to be! It is really important to have an example, which allows you to see that it is worth to try, to start something and achieve it. You must say to yourself – yes, I will start! You have to make the first step and when you do that, you will start to feel the strength within yourself and willingness to make the next step. And just like that, without attracting any attention, you will start to lead your own way and life will reward you with new challenges. It is the choice of an individual – whether to accept challenges as a way to improvement.Do not be afraid, do not be afraid from the unknown, rather – just start doing and then little by little you will see the "big picture" and you will have the understanding. After that, you should become confident and your overall state of mind will change.