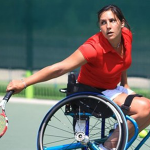 Name Surname: Elena Jacinto

Country: Spain

City: Barcelona

Nationality: Spanish

Background: Vocational and continuous training

Sector: Service and Sport

Position: Head of customer experiences
My personal story begins in 2002, the year in which I made several suicide attempts, the last of them jumping on the subway tracks when the tram entered at the Subway station. This act leaves me with a spinal cord injury that forces me to use, since then, a wheelchair. I spent 4 months in a rehabilitation hospital, and 4 more months going to rehabilitation every day. The rehabilitation was necessary to get enough strength in the upper trunk to allow me to lead an independent life.
It was at the hospital where for the first time, I took a racket as part of my rehabilitation. Once I was released, I continued practicing tennis at the Catalan Federation 2 days a week. I was pretty good, so I started to dedicate more time and to play tournaments, national and international. In 2005 I was selected to be part of the team that would participate in the WorldTeam Cup of wheelchair tennis. After that World Cup, 5 more World Cups arrived: 2009, 2010, 2011, 2012 and 2013.
2005 was also the year in which I started working at DKV Integralia Foundation as a telemarketing phone operator. I knew it was not my life's work, but it allowed me to combine the sport with my work life. After the World Cup in 2013, I decided to quit tennis so I could dedicate more time to my work life and improve it.

In June 2014 I joined the Quality Department of the Foundation to cover a sick leave. My main function was the maintenance and revision of the Quality Management System according to the ISO 9001 standard. In this job I discovered that I liked to boost the quality of the Service and besides, I was good at it.
When the person whose position was covering came back to work, the Foundation decided that we could both stay to work in the same department. Since then, my role is to promote the culture of Customer Experience within the Organization.
To get where I am, the biggest problem I have had to overcome has been my mental disorder. Accept it was not easy. Once I accepted it, I had to work very hard to get to know myself, to know how the mental disorder worked and how to control myself, when I should ask for help before it's too late...
My success factors have been my fighting character and my family, especially my mother.

I always liked to have my space, to be independent, and when the disability came to me I fought with all my strength to not lose my space. For the mental disorder, my mother, my perseverance and my determination to go to the therapies helped me a lot... although at the first moment the results were not noticed.
Among the skills that characterize me... I adapt easily to changes, personally and professionally. Similarly, I like to think that I solve problems and find solutions; In fact, I am able to make decisions quickly. I need to have goals in life and I like to achieve the goals that I set. I schedule my activities and I organize easily, so I need to have objectives. When it is necessary, I am able to ask for advice from those people that I believe can give it.
If I think about the qualities that define me as a person... I am ambitious and persistent when I have to achieve a goal that I set. Optimistic and active by nature, I am a risky person when the situation requests it. I like to be practical and flexible when it is necessary.
My advice is to fight for the things you believe in, work hard and constantly to achieve your dreams. Go step by step, setting achievable goals that will give you confidence in yourself and bring you a little closer to your goal.
There will be times when you'll think that you are exhausted, that you are tired and you prefer to stop fighting. Don't do it! Look for the strength inside you, think about taking another step, and when you see that you have taken a little step forward, gain strength and keep fighting for what you want.