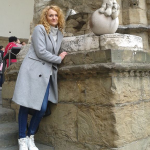 Name Surname: Aneta Sowa

Country: Poland

City: Łańcut

Nationally: Polish

Background: Higher

Sector: Services

Position: manager in ARMA security and cleaning company
Witam, nazywam się Aneta Sowa i jestem kierownikiem grup usługowych ARMA. Zajmuję się ochroną i sprzątaniem. Mam pod sobą ponad 120 osób. Odpowiadam za rekrutację, za zatrudnienie, za dowożenie do pracy pracowników i ochrony i sprzątania. Odpowiadam również za kontakt z kontrahentami
Największe trudności sprawiało pogodzenie pracy z rodziną, z wychowywaniem dzieci. Pracowałam po 12 godzin na dobę, były dniówki albo nocki, oprócz tego w systemie zaocznym studiowałam więc były to weekendy i pogodzenie tego wszystkiego było dość karkołomnym działaniem. I wymagało sporej ekwilibrystyki. Natomiast dzięki pomocy mojego męża i moich rodziców udało się i skończyłam studia. Chciałam iść wyżej, chciałam awansować, niestety w mojej poprzedniej firmie nie było to możliwe, taki szklany sufit i nie było możliwości żeby się przedostać. Dlatego postanowiłam, że coś z tym zrobię i zmieniłam pracę.
Przez 9 lat byłam takim zwykłym pracownikiem ochrony, pracowałam głownie w bankach, z bronią też. Zrobiłam licencję pracownika ochrony II stopnia, tzw. Licencję kierowniczą, bo chciałam coś więcej, wyżej robić. W związku z tym, że chciałam więcej poszłam na studia, dzieci trochę urosły. 5-letnie magisterskie na kierunku Administracja Transgraniczna i Bezpieczeństwo Wewnętrzne. Zawsze chciałam robić więcej niż to co robiłam w poprzedniej firmie. Chciałam się rozwijać i działać, natomiast w poprzedniej firmie nie dawałam rady.
When I started, I was mentored by my friend, the manager, she taught me a lot of things. I use this knowledge very much, thanks to it I am who I am and behave as I behave because I gained a lot thanks to it. At the moment I have a person under me that I've been training and I try to do it as I was taught. I think I am a good teacher, a good mentor, because the new manager is doing very well. She is getting better, she also worked in the protection services, but she never had to deal with people with disabilities and this is a completely different specificity of the work. Maybe not completely but different and you have to learn it. She had to change a bit, but she's doing it, she's getting better and better, and makes contact with employees easier. She is already responsible for protection of several buildings, a dozen or so employees and she manages to deal with technical issues, with a computer with documentation, but the contact with people is getting better. I think it's also thanks to me.
My strengths are mainly that I am ambitious and I try to reach my goals. If I set a goal for myself, I try to achieve it. I am hard-working person and if I want something, I try to achieve it. I like challenges and doing new things, I like when something is going on. I am energetic by nature and I like changes and I have a part in it. I am open person, I can communicate with people very well and I see it with my employees that they also like to talk to me. And it pleases me.As for me, my skills that are needed at work are mainly patience, because the majority of people I work with are disabled people. And some of these people have psychiatric conditions, you also have to talk to them differently, you have to learn it and you have to have a lot of patience for them, but it pays off because you have great contact with these people later. You also have to be empathetic, feel into their situation and, on the other hand, you also have to be hard sometimes. You have to decide when you can be so, not to overdo it in any direction. I think I am doing very well because I see reactions of my employees. My bosses also say that I manage to achieve what they wanted me to achieve and are happy with my work. It gives you motivation to continue working and to work on yourself also to be better and better.
I think that the most important thing, if I can give some advice to other women, that they do not give up, that they would be patient and believe that maybe it is possible that today is bad, tomorrow will be bad but the day after tomorrow will be better. It will never be that it will always be bad. You must not give up. Even when we have fallen, one has to get up and go on. If you have any purpose, if you dream about something and want to achieve something, do not give up, you must strive for it. Even if you fail first time, the second time will be better. And this is what I think is the most important.