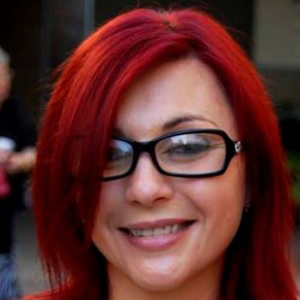 Name Surname: Christine Mifsud

Country: Malta

City: Birkirkara

Nationality: Maltese

Sector: Health

Position: Guide Dog Foundation


I attended a very good church school, from where I achieved 13 certificates at Ordinary Level. I continued my Tertiary studies at a Banking School and continued to qualify for a Secretarial Course on full time basis, while I started working in a local Bank. I was still sighted at this time, so I had no problem with main stream methods of studying and sitting for exams. However, after getting married and having my twin daughters, almost 18 years ago, I lost most of my eyesight due to diabetes complications in my pregnancy. At this time, when I needed my eyesight the most, to be able to take care of 2 new born babies, my eyesight failed me. It was very hard, but thankfully my survival skills helped me survive, together with allot of help and patience from my close family and friends.
If you visit Malta, you will come across many obstacles in the streets and pavements, especially in old towns, where streets are narrow, and pavements are unstable. I used to risk allot when I used to go out without an auxiliary aid, e.g. A guide dog or white cane. I applied for my first guide dog, Winny , and after two years of waiting, I was finally asked to go to complete a training course at the Centro Regional Helen Keller in Messina , Sicily for a course which was successful , and I returned to Malta with my guide dog, Winny. A beautiful beige Labrador, who is very sensitive, fun loving and obedient. She became my companion in many adventures and is of great company and brings out the best of me. I am never lonely, and she is so faithful, it is overwhelming. We have a very intense relationship and we also have much in common character wise. Thanks to her, I lost the sense of fear I used to carry and became very confident. This helped me make choices to better my future and that of others, especially my family.
To put your ideas in action, first you will need to have a good plan of action. One might have allot of ambition, but one has to be realistic too. Research from various contributors is the first step. Next, one has to think about all the Pros and Cons in the Project. It is important to have a clear idea on how many persons the project will cover, if it a service or product, so as to be able to move a good budget and financial plan, before the project commences. It is very important to carry out feasibility studies by someone professional before any investment steps are taken. It is important at least to break even, at least in the first year after the Project is commenced. Finally, as times are constantly changing, there is always room for improvement. One will be held back if he or she refuses to improve, change or invest on his or her project. If your enterprise is a small one and still in its initial stages, it would be wise to work in a network with maybe similar entities, to gain contacts, experience and exposure.
Motivation/reasons for creating the company, the consulting activity or develop your professional career This is the only Foundation in Malta which provides free Orientation and mobility Service in Malta and provides guide dogs for those who qualify.Opportunities: In the Organizations for the blind, I had a good opportunity to learn more and research on what can improve lifestyles of the blind and partially blind on our small island.Threats: In my paid job , some threats where that due to the stressful and demanding part of the job, sometimes I became moody and brought work home with me , which was something I had sworn not to do. At times we even had arguments due to stress levels in the office which was quite unhealthy, especially when a superior burdened us with his or her tension.