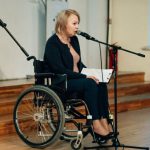 Name Surname: Santa Survila

Country: Latvia

City: Riga

Nationality: Latvian

Background: Master's degree from University of Latvia in Finance trading, currently studying Human Resource Management in State's Social Integration Agency.

Sector: Non-governmental or Third sector

Position: Volunteer worker, project and events manager.
Due to a genetic disease called muscular dystrophy or myopathy Santa is in a wheelchair, but it has not been an obstacle for her to be a socially active woman. Santa works as a project coordinator for an organization called "Wings for Wheels". This organization works for the benefit of people with reduced mobility. In addition to other activities, it organizes camp called "The Challenge" for people with disabilities. Santa also actively participates in government meetings and discussions in order to protect the interests of people with disabilities. She also works as a representative of the NGOs in the advisory board for disabled people in Riga City Council.
I have a Master's degree from University of Latvia in Finance trading but currently I'm studying Human Resource Management in State's Social Integration Agency. Even though I have worked regular jobs - I've been a sales woman in an internet shop and I even worked as a guard, volunteer work in various organizations and taking an initiative in spheres where it's lacking describes me the best. I also take an active participation in state's parliament activities and discussion groups by defending interests of people with disabilities. Thanks to my active participation, I've become the coordinator of Saeima's and NGO forum. It includes cooperation with different organizations and Saeima's chairman, as well as organization of annual conference. During the conference, various problems within society are analysed and through the view of different NGO's possible solutions are discussed. Later these solutions are discussed and voted upon in Saeima's sessions in order to improve our legislation.
One of the biggest obstacles concerning integration of people with disabilities is the lack of information, bureaucracy and person's unwillingness to improve their life. The biggest support I've received from my husband Aleksandrs which is my friend and support. Also, many of my personal characteristics helped me not to give up and always finish what I've started. Enterprise, purposefulness and result may be the key words. Initiative 'Whings for Wheels' and these initiative's director Kaspars Apinis have significantly changed my perception of life – he encouraged me to go on, always reaching for the best result. This encounter completely changed my life, inducing the interest of questions regarding people with disabilities and giving the possibility to care for those people when they are not able to defend themselves and changing their life for the best. Volunteer work fills my life with purpose, gives me a lot of joy and gratification.
I'm a much better employee than I am a manager, however, when there are critical situations when there is no one to count on, I can also undertake management. I don't find myself very creative, rather I like to follow more traditional and systematic paths, but similar as with managing – if there is a situation, I can also do things in a creative way. I'm good at recognizing and knowing the right methods for my work. I have no problem with communicating new information to others. Thanks to my work's specifics, I'm able to listen and pay attention to other people problems. I'm good at and I enjoy making collaborations. I'm good at organizing and planning my work, I'm also analytical and systematic. Professional development of people I work with, is really important to me, I'm good at taking advices and appreciating their experience. In my work, ability to listen deeply to people's stories and taking the most important parts from those stories are crucial, because through this story we can find a way how to help this person. I think that I have developed this skill successfully, by applying it daily in my work.
The most important thing is not to be afraid! Start with what you have – do not wait for the perfect day or coincidence of circumstances, because the perfect day to start doing something, is today!